Sportsbetting.ag Poker Download Review
Sportsbetting Poker – Big Bonus and Soft Tables
Sportsbetting.ag is a member of the rising Chico Poker Network. Perhaps one reason for the growing success of this room is its massive 100% up to $2,500 poker bonus. When you couple the bonus value with the soft tables populated by crossover casino and sports-betting traffic, you have a formula for solid profits.
In order to take advantage of this bonus, you'll have to use the Sportsbetting Poker bonus code NEWSB. Once the bonus is added to your account, you'll be able to play virtually any games you want to earn it out.
SB.ag boasts a diverse variety of cashier processors, an attached casino, sportsbook and financial betting platform, and excellent mobile support. All of these elements demonstrate its competence and customer-oriented philosophy. If you're searching for an online poker home, the Sportsbetting deserves your close consideration.
Click here to visit Sportsbetting.ag and open your new account!

Can I Play at Sportsbetting From My Location?
The U.S. internet poker market can sometimes seem confusing because of the number of operators that disallow Americans to play or at least restrict those from certain states. However, these problems are not present at Sportsbetting.ag because it welcomes users from all 50 states.
On the international front, things are not quite as rosy because there are a few countries from which Sportsbetting does not accept action. They include:
Australia
France
Panama
Ghana
Indonesia
Macedonia
Morocco
Nigeria
Montenegro
What Hardware Can I Play Sportsbetting Poker On?
Sportsbetting Poker is geared toward allowing as many people as possible to play regardless of the particular devices they own. The desktop poker client is available for both Windows and Mac, and it will run pretty much on any matching system from the past several years.
There's also a mobile poker solution that's designed to run smoothly on:
iPad 3+
iPhone 5+
Android OS 6+
Sportsbetting.ag also hosts a Flash poker client. It works on just about every modern web browser in existence. So you can play even if you have a phone that doesn't use Android or iOS. You can also log in from a computer that you don't want to download any software to.
Starting the Sportsbetting Poker Download
Beginning the Sportsbetting Poker download should pose no great difficulties. Simply follow our step-by-step instructions below:
Click through our link to go to Sportsbetting.ag
Click anywhere on the image in your browser
Enter in all the details required to complete the registration form as depicted in the screenshot
Press the "Create Account" button
Once your account is created, browse over to the poker tab of the website
Click on either "Download for PC" or "Download for Mac" depending on the type of computer you have
Run the installer program that downloads to your computer and proceed through all the steps
Start the poker client software, and log in with your username and password
You can sit at the play money tables right away, but you must make a deposit to join the real money tables
Making a Deposit at Sportsbetting.ag
To fund your new SB.ag account, proceed to the website and log in. Then click on "cashier." You'll see a couple of deposit option icons with the ability to click and see even more of them. The supported payment channels along with the transaction limits associated with them are:
Bitcoin: $20 – $50,000
Ethereum: $20 – $50,000
Litecoin: $20 – $25,000
Bitcoin Cash: $20 – $25,000
Credit Card: $25 – $1,000
Secure Voucher: $35 – $500
MG Transfer: $100 – $600
WU Transfer: $100 – $500
Cashier's Check: $1,500 – $15,000
Bank Wire: $1,000+
Money Order: $300 – $9,000
Skrill (non-US): $10+
After you choose your deposit method, you'll see a form that you must fill out. Notwithstanding the fact that some of the available deposit channels come with pretty low minimum transaction amounts, you must fund your account with at least $50 if you seek to receive the 100% up to $2,500 poker bonus. You'll see a spot to put in a Promo Code, but this is for sports bonuses; the poker bonus must be requested separately. Therefore, you ought to leave this space blank unless you wish to partake in a bonus to bet on sports.
After making your deposit, you must send an email to [email protected] with the bonus code NEWSB in the subject line and your username in the body of the email. Your bonus will be applied to your account within 48 hours of your request.
To read more about this bonus and how you can best clear it, browse over to our Sportsbetting Poker bonus review page.
Play at Sportsbetting and Get $2,500 Free
Create your Sportsbetting.ag account and make a deposit for 100% up to $2,500 in bonus funds!
Sportsbetting Poker Software Overview
The software in use at Sportsbetting.ag was designed by Connective Games. It replaced the old, clunky PlaySafe client in July 2016, and by all accounts, this new poker application is head-and-shoulders above the previous one. Everything works as it should at Sportsbetting Poker, and besides this, there are a few cool features that are uncommon among U.S.-facing online poker sites.
Sportsbetting Poker Lobby
When you log into the Sportsbetting poker room, you'll see a neatly arranged layout that won't cause you any doubt or confusion. Selecting one of the tabs at the top will present you with a list of games of that type, and you can further refine your search by using the sub-category tabs or the game variant selector drop-down menu. One nice touch is that you can hide full or empty cash games by clicking the appropriate check boxes.
If you press the "More" button near the top of the lobby, you'll bring up the filtering interface, which permits you to narrow down the results. You can specify a minimum and maximum buyin/blinds level, perfect when you want to exclude games that are too big or small to warrant your attention.
Sportsbetting Poker Table
Poker tables at Sportsbetting.ag are about par for the course. You'll encounter the familiar arrangement of player nameplates, avatars and stack amounts that you would expect. One nice touch is that you can move the chat box to either the right or left sides of the table if you don't like its default bottom-left positioning. This expands the area of the box considerably albeit at the expense of making the entire table window take up more space.
With a single click, it's possible to bring up the hand replayer, maximize the current table, tile all tables and perform a host of other useful functions. One odd option at SB.ag Poker is that you can attach a table to the lobby, and then they will both occupy the same window. We can't really think of a reason why you would want to do this, but there's probably some obscure situation when it might prove valuable.
Buddy List
At Sportsbetting, you can create a Buddy List composed of people whom you want at your tables, your friends or just individuals whom you find noteworthy in some way. The list is accessible from the top lobby menu under "Options" –> "My Buddies."
Unexpectedly, you cannot search for your buddies from within the "My Buddies" window, but fortunately, there is a separate "Find Player" function. You can invite everyone on your Buddy List to your table at the click of a button, and right-clicking on any player at a table will give you the option to add that person to your list.
Options
Most poker room software lets you configure certain aspects of your gameplay experience, but the number of ways to adjust the Sportsbetting poker client is staggering. The applicable window is accessible from the "Options" —> "More Options" menu item.
These options are so numerous that they're actually listed in 12 separate categories! Everything from table themes to hotkeys and sound volumes (per individual sound) can be altered to your liking.
In the event that you go too crazy and make poorly thought-out changes, you can always reset these options back to their defaults with the handy button provided for this purpose.
Game Selection at Sportsbetting
A few years ago, Sportsbetting.ag was lacking a bit in the number and variety of poker formats spread, but this has changed after several upgrades to the software. Now, you have a fully fleshed out palette of games to relish.
Cash Games
The three main cash game types are NL Hold'em, PL Omaha, and PL Omaha/8. They're offered between $0.05/$0.10 and $5/$10. LHE and LO8 are present too, but they're virtually deserted.
Because of the fact that there are no high-stakes games and also that some formats see 0 players entering them, traffic in the major games, NLHE and PLO, is pretty robust throughout the day. You won't have to wait long for your table to fill.
Boost Poker
Fast-fold poker at Sportsbetting is known as Boost Poker. It follows the regular fast-fold formula, moving players to new seats whenever they fold and starting another hand right away.
The only Boost games are for No Limit Texas Hold'em, and they exist at blind levels of $0.05/$0.10 and $0.10/$0.25.
SNG
Sit n' gos run the range from $1.50 to $215 buyins in both NL Texas Hold'em and PLO. Table sizes are 9, 8, 6 and 2. Hypers, turbos and regular-speed contests await your participation.
Double or Nothing games are listed here, and they're referred to as "One-up." Half of the field is paid, and each prize is the same amount. There are a small handful of satellite SNG steps that grant seats to the major Chico Network tournaments.
Windfall Poker
Windfall is Sportsbetting's take on lottery SNGs. Each game seats three people and uses a randomized multiplier to determine the size of the prize pool. The most common scenario is twice the buyin being awarded to the winner, but it's possible to hit a value as high as 2,000 times the buyin.
Windfall is a winner-takes-all competition most of the time, but this isn't the case if the 2,000 multiplier appears. If this happens, then all participants will win something.
There are four buyin levels for Windfall: $3, $7, $15 and $30.
Multi-Table Tourneys
If there's any area in which Sportsbetting.ag Poker falls short, it's in the lineup of MTTs. There are plenty of them every day, but most of them are for small buyins and correspondingly mediocre prizes.
Sundays are an exception to this trend because that's when the Main Event takes place. This is a $90 + $9 tournament that guarantees $50,000. On the last Sunday of every month, it's bumped up to a $100 + $9 buyin and a $100,000 guarantee.
Mobile Poker at Sportsbetting
The Sportsbetting mobile poker download was created for iOS and Android users. Furthermore, a Flash client exists that caters to virtually anyone with a relatively recent computing device.
The mobile poker setup was well-designed. It offers access to almost all the games that are actually played, and the user interface is intuitive. It's even possible to multi-table on mobile, and a bar at the top of the display allows you to view your hole cards at the other tables you're playing.
Sportsbetting.ag Withdrawals
You can get your money from Sportsbetting via any of the following methods:
Bitcoin: $20 – $10,000
Ethereum: $20 – $10,000
Litecoin: $20 – $10,000
Bitcoin Cash: $20 – $10,000
MG: $50 – $400
Money Order: $500 – $9,000
CreditCard+: $200 – $2,000
Check: $500 – $2,500
Bank Wire: $500 – $24,900
Many of these processors incur fees, but crypto-currency (Bitcoin, Litecoin, Ethereum, Bitcoin Cash) is always free to use at Sportsbetting.ag.
Even if you decide to employ a method that comes with a fee attached, you can get one payout per month on a Friday with a $50 discount, which effectively makes almost every form of cashout free. Still, if you're not particularly eager to have to carefully eye the calendar whenever you make a withdrawal request, then crypto coins are the way to go.
There's no Use Waiting Around!
Jump on the tables now, and start building your fortune at Sportsbetting Poker.
Sportsbetting Poker's Extra Features
Comp Points
As you pay rake in cash games and fees in tournaments, you'll start to amass comp points at the rate of $1 in rake/fees = 100 points. These comp points can be traded in for entry into selected MTTs. Now you have a mechanism for joining tournaments even if you don't have enough real money to buy in directly! Comp points are worth about 5.7% rakeback.
Weekly Leaderboards
There are three leaderboards at Sportsbetting.ag that pay out a total of $20,000 to 60 players per week. There's $10,000 for ring game enthusiasts along with $5,000 apiece for SNG grinders and multi-table tournament fans. The competitions are divided into three categories depending on stake/buyin level, so you don't need to be a high-roller to earn a prize.
Odds Calculator
Sportsbetting Poker provides a no-charge Odds Calculator software package to every player. You can see how many outs you have, what the pot odds are, and graphs of your statistics. Even better, perhaps, you can get a bead on what your opponents are doing and auto-categorize them into several categories based on their habits and tendencies at the tables.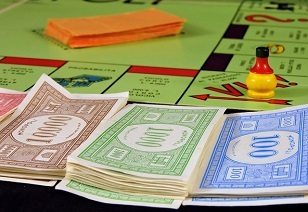 Play Money
You start with 1,000 play chips, which enable you to check out the software and games without having to put your own funds at risk. If you ever dip below this starting amount, you can request a reset to 1,000. After you familiarize yourself with how the tables work, then you can make a deposit and begin to play with real money.
24/7 Help
There are dedicated CS personnel standing by 24/7 to assist you. You'll be able to email them at [email protected], talk over the phone toll-free at 1-888-843-9027 or open up the Live Chat facility on the website to discuss the matter that's troubling you.
Financial Betting
Allowing users to bet on financial outcomes is one of the products that set Sportsbetting apart from the competition. Not only can you wager on traditional currency pairs, like EUR/USD, but you can also try to guess whether crypto-currencies, like BTC and ETH, will go up or down. There are a few commodities listed as well.
Attached Sportsbook
As its name might imply, Sportsbetting is the perfect venue for putting down some action on the big game.
Whether you're a fan of baseball, football, soccer or some other form of athletic competition, you'll find enough different bet types to keep you occupied. Limits are relatively high, and you can ask to have them raised by contacting support.
Attached Casino
There are more than 200 games for you to try out in the Sportsbetting Casino, and you can take advantage of many bonuses and promos while you're at it. You may be intrigued to learn that there are a few Live Dealer games that are actually operated by a real human dealer with the results shown through streaming video to all participants.
Sign up Today
Register your Sportsbetting Poker account and grab a 100% up to $2,500 bonus on your initial deposit!
Leave a Review!
Average rating:
0 reviews